Russian and Ukrainian speaking Tenors Index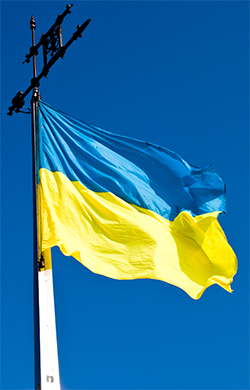 It would be most unfortunate if anybody perceived the makeup of this section as a support for the criminal actions of the current Russian government against the sovereign Ukrainian state. Historical Tenors is presenting Russian and Ukrainian (and Belarussian) speakers in one chapter not for political reasons, but simply because all singers in question form one vocal school, and because those ethnicities have been tightly intertwined, geographically, already since Tsarist times.

Let's put it clearly: the Putin government's aspiration to hegemony over Ukraine (and over other neighbour states, too) is totally unacceptable, and Mr. Putin's (and his supporters') moronic gibble gabble about the need for a "denazification" of Ukraine is an insult to the intelligence of any listener. Ukrainian president Zelenskyj is Jewish, and a native Russian speaker – and has been elected by the majority of Ukrainians. That's proof enough that racism and nationalism are no rampant problems in Ukraine. The only fascist state anywhere around is Russia; and so the country that urgently needs to be demilitarized and denazified is Russia. Russian "internal affairs" have to be treated with the same respect that Russia shows for Ukrainian internal affairs. Mr. Putin and his fellow fellons have to be put on trial before an international tribunal; I hope they spend the rest of their lives in the darkest imaginable dungeon, on bread and water.


Before you begin, make sure you've read the Instructions for use with thorough explanations on transliteration from Cyrillic script, or trying to find anybody in this section, or to recognize aria and song titles, will make you despair.

A
Alchevskyj, Anatolij Aleksandrovich, Mikhail Aleksandrovich, Alekseev, Andrijenko, Andrjushchenko, Anikeev, Antonov, Atlantov, Azrikan

B
Babij, Balotsin (Bolotin), Batorin, Beljaev, Belugin, Bilynnyk (Belinnik), Bobrov, Bogachov, Bogdanovich, Bojtsov, Grigorij Bolshakov, Nikolaj Bolshakov, Bonachich, Borko, Boryshchenko, Bugaev

C
Chekin, Chorovič, Chuprynnikov, Ciaroff-Ciarini

D
Damaev, Mikhail Davidoff, Aleksandr Davydov, Dedik, Didyk, Donatov, Donskoj, Dovenman, Dubrovets, Dubrovskij

E
Egorov, Egudin, Elnikov, Ershov, Evlakhov

F
Fedin, Fjodor Fedotov, Volodymyr Fedotov, Figner, Fokin

G
Galkoŭski (Galkovskij), Galouzine, Gavrilkin, Geft, Georgievskij, Gerlach-Rusnak, Glantz, Glushakoŭ (Glushakov), Golik, Gres, Grigoryev, Grishko, Gurjev, Gutorovich

H
Hershman, Holynskyj (Golynskij)

I
Isachenko, Ishchenko, Ivanovskij

K
Kachalov, Kadantsev, Kaluzhskij, Kanshin, Karenzin, Karolik, Kartavenko, Khanaev, Khanedanian, Khromchenko, Kilchevskij, Kirichenko, Klementyev, Konyshev, Korchak, Korobejchenko, Koroljov, Kozeratskyj, Kozlovskyj, Kravtsov, Ksendzovskij, Kudrjavchenko, Kulko, Kurzhijamskij, Kuznetsov, Kyporenko-Domanskyj

L
Labinskij, Laptev, Mikhail Larin, Sergej Larin, Laut, Lemeshev, Lisovskij, Lomonosov, Luder

M
Majboroda, Makhin, Maljutenko, Martynov, Marusin, Maslennikov, Aleksandr Matveev,
Matvej Matveev, Menzinsky, Mikhail Mikhajlov, Mikhajlov-Stojan, Maxim Mironov, Valerij Mironov, Mishchevskij, Moiseenko, Momot, Morskoj, Mykysha (Mikisha), Myrkotan (Mirkatan), Myszuga

N
Nagachevskij, Naparin, Ivan Nechaev, Vladimir Nechaev, Neljepp, Neverov

O
Ognjevyj (Ognevoj), Ohrenych (Ogrenich), Oreshkevych, Orfjonov (Orfenov), Orlenin, Osipov, Ozerov

P
Pechkovskij, Pelagejchenko, Vladimir Petrov, Pikok, Gennadij Pishchaev, Viktor Pishchaev, Platonov, Pletenko, Pluzhnikov, Poljakov, Polozov, Pozemkovsky, Pronchev, Pshenichnyj, Puchkov, Pyavko (Piavko)

R
Radamsky, Radzievskij, Rajkov, Ritch, Rogatchewsky, Roitman, Rosenblatt, Rosing, Rostovskij, Rozanov, Rozumenko, Ruban, Rudkovskij

S
Sabinin, Sadovnikov, Samofalov, Samojlov, Samoshin, Savchenko, Sereda, Sevastyanov, Shapin, Shchavynskyj, Shcherbakov, Sheljuzhko, Shulman, Shvedov, Sibirtsev, Sirota, Skala-Starytskyj, Slovtsov, Smirnov, Sobinov, Sokolov, Solodovnikov, Solovyanenko, Spivak, Srebnitskij, Steblianko, Steinberg, Stoljar, Streltsov, Surzhikov, Syrovatko-Zolotarjov

T
Tarashchenko, Tarkhov, Tatarov, Timchenko, Tkachenko, Tretjak, Tsarskij, Tymokhin (Timokhin)

V
Vasilyev, Veljashev-Svetlanov, Vesselovsky, Vinogradov, Vinokurenko, Vitting, Voskresenskij, Vostrjakov

Z
Zaika, Zajchenko, Zakhodnik, Zhilkin, Zhukov

Further Russian and Ukrainian speakers can be found in the Comprimari and No record sections.