Opera in New York
Performance reviews:
Cavalleria rusticana & Pagliacci (2007), La bohème (2006), Tosca (2006), Rigoletto (2006), Lucia di Lammermoor (2005), Carmen (2005), Manon (2005), Tosca (2005), Samson et Dalila (2005), Don Carlo (2005), Il barbiere di Siviglia (2005), Turandot (2005), Otello (2005), Les contes d'Hoffmann (2004), Il barbiere di Siviglia (2004), I vespri siciliani (2004), Tannhäuser (2004), Cavalleria rusticana & Pagliacci (2004), Aida (2004)

Cavalleria rusticana & Pagliacci

Met, 3 February 2007

Both productions are by Zeffirelli, and represent a normal standard view of both works and do not disturb in any way. However the conductor Marco Armiliato conducted such a sluggish performance of Cavalleria that the work was completely devoid of passions and tension. Voi lo sapete, the duos Turridu/Santuzza & Alfio/Santuzza went for nothing except for generating a soporific atmosphere. There was no applause after Mamma, quel vino. Alfio was Mark Delavan who is well past his best after his terrible performances in Rigoletto and Forza in Munich. As a funny sideline, the Met program listing the highlights of Delavan's career included the Munich Rigoletto, where he was booed. Eduardo Villa (Turiddu) was no help. I had some hope after his Siciliana sung behind the set, he sounded fine, but as soon as he appeared he fell back to his old self. Even Dolora Zajick, as Santuzza, suffered from the sleepiness of the whole thing. The best were Jane Bunnell (Lucia) and Sandra Piques Eddy (Lola). The Pagliacci conducting was a bit better. The Canio (Salvatore Licitra) lacks squillo for the role and was in vocal trouble at venti tre ore. Lado Ataneli was fine during the play and his duo with Nedda but his high notes in the prologue lack bite and excitement (listen to Shore on YouTube), but he is better than Pons, the last Tonio I saw at the Met. Tony Stevenson (Beppe), Russell Braun (Silvio) were adequate. The best performance of the evening was by Krassimira Stoyanova as Nedda, excellent voice, good actress, and generating a lot of excitement. A poor evening all in all, except Miss Stoyanova.

La bohème

Met, 9 December 2006

This was the famous Zeffirelli production which is well known and outstanding. The evening started strangely, Plácido Domingo (the conductor that night) was received with bravos upon his entrance and during each of his appearances. As he delivered a Wagnerian length Bohème (including two intermissions), a three hours evening, this was quite strange. I would not be surprised if the management had arranged for the cheering as during the course of the previous Bohème he was booed to the great dismay of Peter Gelb, another person who wants to ruin everything. Also at his final curtain, Domingo certainly looked older than the 65 years old he pretends to be. Too bad I know that when he was a child he played together with another tenor who is now over 70 years old. The evening was so so. Villazón was announced as sick, but that did not matter too much. He is still trying to push his voice and believes he is Corelli. Che gelida manina was pretty poor, of course a local moron had to yell bravo at the end. The rest of the evening was average. At his curtain call, Villazón was jumping around for no obvious reasons. Wayne Croft, replacing Peter Coleman-Wright who was sick, sang Marcello. The role is a real bore and nobody can save it. Puccini, during the premiere, was concerned about the two singers Wilmant, as Marcello, and Gorga as Rodolfo (both described as cani by Toscanini). I still do not quite understand why he would be bothered by the singer singing Marcello, a dead role (I'm missing something somewhere). Patrick Carfizzi was Shaunard and John Relyea was Colline, who delivered a nice Vecchia zimarra. Paul Plishka was outstanding as Benoit and Alcindoro. Gregory Lorenz as Parpignol had the same passaggio problems in the role as McCracken had. Anna Samuil, Musetta, was adequate while the Mimì, Maija Kovalevska, revealed the best voice of the evening in terms of power, singing and interpretation.

Tosca

Met, 19 April 2006

The production and sets by Zeffirelli still remain gorgeous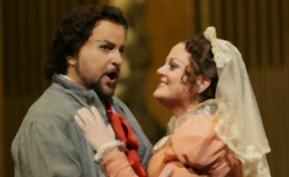 . Apparently, the new director wants to give us a modern production. Thank you! Deborah Voigt was Tosca. She acted well, sang well, displayed fine use of the language (E avvanti lui tremava tutta Roma), but her voice is not very big for the house's size. James Morris, Scarpia, was fine, but did not have a pointed use of the words, like Taddei had in the past. Franco Farina, Cavaradossi, was fine, but I have heard him in better voice in this role. The comprimari were excellent (Plishka/Sacristan, Ketelsen/Angelotti, Cangelosi/Spoletta, Vernon/Sciarrone). Carlo Rizzi conducted well.
Rigoletto
Met, February 11, 2006
This was the 1989 Schenk production with sets and costumes by Zack Brown. It is a very nice piece of work far from the Munich monkeys. The Gilda (Anna Netrebko) is cute, has a nice voice with a thick middle, but she sang a Gilda leaving her high notes at her dressing room. Futrall should have sung the role, but not Netrebko, product of advertising such as for the three tenors. Upon entering the theatre, we were given a free DVD with Netrebko and Villazón. As the Duke, Rolando Villazón showed a veiled narrow voice, without squillo, and no high notes. Ella mi fu rapita was delivered without any particular feeling or brilliance on top. Why he sang Possente amor is a mystery as it was a letdown at the climax! No cadenza in La donna è mobile. In short he was dull. Frederick Burchinal, as Rigoletto, replaced Carlo Guelfi. His voice is blown out and his high notes are a gamble, at least he tried. I remember not too long ago when the baritone and soprano used to dominate the orchestra at the end of Sì, vendetta, but not here. The best performances came from Eric Halfvarson as Sparafucile (strongly sung and characterized), Stephen West (strong Monterone) and Michael Forest as Borsa (at the beginning he was covering Villazón). Nancy Fabiola Herrera was the Maddalena. Plácido Domingo was the conductor. The orchestra knows the piece.
Lucia di Lammermoor
Met, December 23, 2005
This is the 1998 production by Nicolas Joël, sets by Frigerio and costumes by Franca Squarciapino. Production, sets, costumes fit the piece very well and there is no negative regarding any of it. The Edgardo, Ramón Vargas, was the one of the premiere. He has a lyrical voice for a role created by Duprez, a specalist of Arnold, Fernand, and Raoul among others. The voice required is one with a more robust quality to it. Vargas sang very well, his top was more secure that when I heard him a year ago as Hoffmann. But he does not have the power to be heard in the big ensembles. Vanzo could be heard, in spite of a lyric voice, because of superior projection. His best moments were the cursing of Lucia (much superior to Pavarotti's curse), the duet in the Wolf's Crag castle scene and his suicide. The Lucia of Elizabeth Futral was grand. She must now be the leading lyric-coloratura soprano. Her voice is well produced all over her range, has excellent and secure top notes, and can be heard in the ensembles. She also has a captivating stage personality and acted very well in the mad scene. Too bad she is not currently singing Gilda instead of the overrated Netrebko. After her mad scene aria, the cut where Enrico reappers has been restored and the act does not end with the final note of the mad scene. Charles Taylor as Enrico showed a good voice and was excellent. The duet with Vargas was very powerful and dramatic. The cut in the role of Raimondo (duet with Lucia) was restored. John Relyea was quite good in that role, reserving himself for his big scena preceding the mad scene. He does not have the voice of Ghiaurov, but was very dependable. He is a good house basso. The comprimari were Ronald Naldi (good Normanno), Garrett Sorenson (Arturo), and Edyta Kulczak (Alisa). The whole thing was conducted with great drive by Edoardo Müller, a real operatic conductor for a change.
Carmen
Met, November 19, 2005
The production and sets by Zeffirelli are still very effective and set the mood to Spain. The performance was on a good level. Denyce Graves (Carmen) has a firm grip on the role, her acting was effective, her characterization of Carmen was on target, and the voice, except for a few rough passages, was fine. She is a lot better than for example Uria-Monzon. The Escamillo, Erwin Schott, had a good voice, good presence, except for the low notes of Votre toast, was much better than anybody else I heard recently. The Micaela, Ana Maria Martinez, was making her debut. She has a nice voice, nice presence, and made the most out of this unrewarding role. Marcello Giordani, Don José, seemed to be holding back his voice all evening. He looked tortured. The final duet could have been more dramatic as well as the outburst in the third act. I cannot see him sing Arnold (he did that a little earlier in New York, apparently successfully) very convincingly. Philippe Jordan was the good conductor.
Manon
Met, September 24, 2005
This production by Ponnelle dating from 1987 fits the story and the period well. Hopefully it will stay at the Met for a long time. There are really only two roles in this work. Lescaut and le Comte have not much to do. At least, le Comte des Grieux leaves early, while Lescaut has to be there all evening without any real aria. Both Robbins (Comte) and Chaignaud (Lescaut) were fine in this context. Manon was sung by Renée Fleming. She acted very well, look well, and delivered a fine vocal performance. She was quite stunning in the Cours-de-la-Reine, and moving in the last act. The des Grieux Marcelo Álvarez was in very good voice, delivering a good "Rêve", while being up to the more heroic part of the Saint Sulpice scene, and very strong at the end. De Bretigny was capably sung by William Shimell. What I do not understand is why the Met had to import Jean-Paul Fouchécourt to sing Guillot, while Charles Anthony was present, singing one of the guards. There were two ridiculously lengthy intermissions, and thankfully the ballet was cut. Jesús López-Cobos was the conductor and made a fine job of it.
Tosca
Met, March 25, 2005
The Zeffirelli production is still amazing after all those years, and we can concentrate on the singing. We do not have a rethinking of Tosca under Mussolini here, or a Tosca with the sets upside down or a cardinal as Scarpia, etc. One must say from all the three principals, only one had the voice and talent for the piece. Mark Delavan is a big man with a strange voice. He missed all his big vocal moments: Scarpia's entrance (Un tal baccano in chiesa), and the Te Deum (inaudible). He was barely menacing. He cannot make use of the words like Taddei (Là si drizza un patibolo). He was a purring pussycat, small-voiced Scarpia. It's no wonder that he was recently booed in Munich as Rigoletto. Salvotore Licitra was Cavaradossi. He had problems in La vita mi costasse. His voice disappeared from time to time. His Vittoria was unimpressive. There was no much feeling in E lucevan le stelle (remember Corelli and others). The only satisfying performance was the Tosca of Guleghina. Today she had her voice under control. She sang well, acted well, and her interpretation was outstanding. We had excellent comprimari: Richard Bernstein (Angelotti), Paul Plishka (Sacristan), Bernard Fitch (Spoletta), Richard Vernon (Sciarrone). The performance was well conducted by James Conlon.
Samson et Dalila
Met, March 19, 2005
The production is from Elijah Moshinsky with sets and costumes by Richard Hudson. We cannot speak about sets because there were practically none, just a few sliding panels, and basically not much except some poles. It was pretty awful. As for the costumes, it was also pretty trashy. Abimelech looked like a scarecrow dressed in red. The Philistines looked like South American Indians with barely any cloth on. The High Priest was dressed in a multi-color suit. He looked like Tonio's brother. The bacchanal was trash. On the singing side, it was pretty lame. I still remember René Bianco as the High Priest. Here, Jean-Philippe Lafont sang the role. I must have heard him last time more than 20 years ago. His voice is now a pale reflection of what it was. He was merely adequate. Richard Bernstein was a capable Abimelech, the same thing can be said of Robert Lloyd as the Old Hebrew. Denyce Graves was Dalila. She was adequate. But it was the evening of Cura's groupies. There were lots of screaming women who obviously only came to hear Cura and scream their head off independently if the singing was fine or not. Cura has a strange voice. His Arrêtez, ô mes frères lacked power. Escalaïs and Luccioni have set milestones for that aria. His Trahison lacked power too (Maurice Maievsky did a lot better in a live recording I have, and Maievsky had the looks too), and so did his last note when he crashed down the temple. He looked tortured all the time. He has now a weird voice, all in the throat. The conductor was Bertrand de Billy who was better here than in Turandot. He also had a groupie who yelled, when he showed up at the beginning of each act, Bravo Billy. Curiously the evening had more success than the afternoon performance.
Don Carlo
Met, March 19, 2005
This was the five act version sung in Italian. I would rather hear the four act Italian version as the Fontainebleau act is a real loss of time besides being nothing special musically. John Dexter's production with sets by David Reppa and costumes by Ray Diffen was very fine and in conformance with the piece. Richard Margison was Don Carlo. He was out of sorts in his entrance Io la vidi. He exhibited roughness, and a slight wobble on high notes. Most of the evening, he delivered the notes without any special feeling. His best performances were during the duets with Elizabeth in the garden outside the monastery and in act 5. Ferruccio Furlanetto was outstanding as Filippo both in voice and impersonation. Samuel Ramey, as the Inquisitore, was in great shape, no wobble this time. His duet with Furlanetto was a high point of the afternoon. Sondra Radvanovsky, as Elisabetta, was again outstanding: voice, power, style and feeling. Violetta Urmana was also outstanding as Eboli: voice, agility and power. Dwayne Croft, as Posa, is not a Verdi baritone, sang without great power. In the duet with Furlanetto, he could have put more dramatic emphasis on the words la pace dei sepolcri. The monk was sung by Vitalij Kowaljow. He was outstanding. As a funny aside, he received applause after his short act 2 aria, and a woman yelled Bravo Ramey. The whole thing was conducted by Fabio Luisi, a great conductor.
Il barbiere di Siviglia
Met, March 12, 2005
This was my second visit to this Barbiere since December, there were two cast changes: Franco Vassallo (Figaro) and Ferruccio Furlanetto (Basilio). The other singers were the same and fortunately in much better voice. Carlos Chausson was particularly good as Bartolo and delivered his aria (A un dottor, more difficult than La calunnia), very well. Matthew Polenzani, a comprimario, should concentrate at most on roles such as Almaviva (with the cut of the last act aria) and do nothing heavier. He should also sing in smaller halls. In other times, he would have sung comprimario roles only. He was in better voice than during my previous visit. Karnéus (Rosina) was also in better voice, has style and was a pert Rosina. Furlanetto, as Basilio, has a much better voice than John Relyea, and he delivered a strong Calunnia. While the new Figaro (Franco Vassallo) was also an improvement to Dwayne Croft: good voice, good acting and a strong Largo al factotum. Again Benini was the strong and capable conductor.
Turandot
Met, February 5, 2005
The production by Zeffirelli dates from 1987 and it is still the same stunner. We are far away from the idiotic productions by the Allen brothers, Homoki and other nuts so much favored by people such as Gockley, Jonas etc. Here, we have a presentation of the composer's intentions. On the vocal side, Johan Botha has a good voice for the role, but he is very boring, goes through the motions of singing the notes without any particular emotions and does not leave us with any particular remembrance of his performance. A case in point is act one's final, where he did not make much out of it, though he could have: we have recorded references available by Barioni, Corelli, Zambon, Martinucci, etc. It is the same with the final duet; he just sang it without any feelings. Andrea Gruber has a good voice, good technique, but I feel it is wrong for her to sing Turandot. She does not have the power and sheer volume of Nilsson, Shuard, Jones, Slatinaru, Marton etc, to name a few of the recent interpreters. She would have been better served singing Liù. The local operatic geniuses that populate New York thought that she and Botha wobbled. This is absolutely untrue. Krassimira Stoyanova was a good Liù in the easier soprano part, nice pianissimi, and good feeling for the part. Hao Jiang Tian was an excellent Timur, while the trio was also outstanding: Haijing Fu (Ping), Tony Stevenson (Pang), Eduardo Valdes (Pong); and the veteran Charles Anthony was still there as the outstanding Altoum. Bertrand de Billy was the conductor. He conducted well, was at his best in the Ping/Pang/Pong scene. I thought he did not infuse enough tension in the big ensembles. One more word, thanks to the surtitles (or Met titles as they are called here), the audience thought that this was an opera buffa from time to time.
Otello
Met, January 8, 2005
This production by Elijah Moshinsky dates back to 1994. Combined with the sets by Michael Yeargan and costumes by Peter J. Hall, everything was fine and did not distract from what the piece should be about (for example, no Otello in cage, as I have seen). The best overall singing of the evening came from Barbara Frittoli as Desdemona. She was both lovely as a person and as a singer. She delivered a beautiful Canzone del salice and Ave Maria. Frederick Burchinal stepped in to replace Carlo Guelfi, who was sick, as Iago. He was in much better form than for Alfio, sung earlier in the season. He gave a very powerful portrayal of Iago and was not overwhelmed by his Otello during Sì pel ciel. There were good comprimari: Garrett Sorenson (Cassio), Bernard Fitch (Roderigo), Jane Bunnell (Emilia), Charles Taylor (Montano), Brian Davis (Herald) and Vitalij Kowaljow (Montano). Something was missing: Otello!. Ben Heppner is a fine Lohengrin and Stolzing, but for some reasons he tried Tristan a few years back. It was a failure and he cracked. Now he is trying Otello again. Both roles are for a darker voice, and that's not what Heppner offers. He is a good singer, but on the wrong path. He husbanded his resources for good reasons, sang carefully, but that's not singing Otello. He was at his best during the first act duet, and the last act. His Esultate lacked power, Ora e per sempre & Sì pel ciel were undernourished moments.
Les contes d'Hoffmann
Met, December 30, 2004
The combination of Otto Schenk as the producer and Günther Schneider-Siemssen as the set designer is a sure indication of success. It was not that long ago (1982). All the productions of the piece I have seen in the recent past in Paris, Portland and Houston were pure rubbish. The version used here gives more to sing to the Nicklausse/Muse combination, but still keeps Scintille, diamant. Before the start of the performance, it was announced that Ramón Vargas was suffering from the flu, but would still sing. He did not seem indisposed to me. Apparently, he was singing Don Carlo in November before coming here. Vargas is a lyrical tenor and has no business singing parts such as Don Carlo. Les contes d'Hoffmann is also not a good piece for him. I remember that way back Frans van Daalen, who was at that time considered to be the up and coming Mozart tenor, tried it, and his voice went to pieces. In the lyrical part of the role, I must say that Vargas was good, but when it came to dramatic moments (such as the trio in the Antonia scene with Hoffmann, Miracle and Crespel), his voice thins and loses power. Mr. Vargas should stick to lyrical roles, before it is too late. The outstanding performance came from James Morris as the four villains. He was outstandingly dramatic and devilish in the Antonia scene, while delivering a powerful Scintille, diamant in the Giulietta scene. Patricia Racette was Antonia and Stella, very good in the Antonia scene, while as Stella there is not much to do. Greg Fedderly was excellent in the four tenor buffo roles. Aleksandra Kurzak demonstrated outstanding coloratura as the mechanical doll Olympia, she also displayed an acting talent. Béatrice Uria-Monzon was good as Giulietta but her French was surprisingly not understandable. Wendy White, as the mother, James Courtey, as Hermann and Schlemihl, Bernard Fitch, as Nathanaël and Spalanzani, and Hao Jiang Tian, as Luther and Crespel, were all good. Frédéric Chaslin was the excellent conductor.
Il barbiere di Siviglia
Met, December 28, 2004
This production by John Cox with sets designed by Robin Wagner and costumes by Patricia Zipprodt is outstanding. It is well set in the period it should be in, with a rotating single set showing, besides the different places of the action, the action that one otherwise never sees, i.e. people passing through intermediary places before arriving to their destination. The singing can be described as a good team effort. There were no outstanding voices, with some even being a bit small for the house. But the achieved results were on a good and pleasant level. The singers were: Matthew Polenzani (Almaviva, really a comprimario), Dwayne Croft (Figaro), Carlos Chausson (Bartolo), John Relyea (Basilio), Katarina Karnéus (Rosina) and Claudia Waite (Berta). Unfortunately the difficult aria of Almaviva in the last act was cut. The whole thing was well conducted and propelled by Maurizio Benini.
I vespri siciliani
Met, December 11, 2004
The production by John Dexter dates from 1977. The sets (by Svoboda) consist mainly of a huge stairway in the middle of the stage with different items being moved in and out from the sides depending on the scene of the opera. As usual with Svoboda, sets are minimal and everything bathes in darkness. Dexter keeps moving the singers up and down the stairs, a distasteful habit. One wonders what did he get from the Amelia of the premiere in 1974, Montserrat Caballé. I don't see her moving up and down all the time. But compared to the productions of today, it is bearable. By far the best singing of the matinee came from Sondra Radvanovsky as Elena. She has a great voice, good coloratura, power and sensitivity. The bolero was outstanding. After her, we have to nominate the veteran Leo Nucci. I never considered him to be in the same league of Cappuccilli, Guelfi, Bianco, Borthayre, Protti, etc but he is still in good voice and has style. His In braccio alle dovizie was excellent. The other veteran Samuel Ramey is a different matter. He was never a real bass, but a bass baritone trying to sound like a bass in the Verdi repertory, while Rossini would have been better suited for him. His voice has now a wobble in the whole range, besides that he was quite dull. He is announced as singing the Inquisitore in Don Carlo soon. This is not a good choice for his current voice problems. He should retire, or do comprimario parts. As for Arrigo, we had Francisco Casanova. He is a good singer, but Arrigo is not your average Verdian tenor part, it lies quite high. It is not for Casanova. He does not have the power for the big climaxes, such as the climax of Giorno di pianto. In those moments the voice does not dominate, and it sounds small. It would be advisable for him to stop singing this part as he is otherwise quite capable. Frédéric Chaslin was the conductor and did a good job of keeping things moving in the right direction, starting with the extended overture. This opera involves extended comprimario parts. All of them were in competent hands: Eduardo Valdes (Tebaldo), Sebastian Catana (Roberto), Peter Volpe (Bethune), Andrew Gangestad (Vaudemont), Tony Stevenson (Manfredo), Ronald Naldi (Danieli) and Jane Bunnell (Ninetta). Even with the reservations mentioned, it was still an enjoyable afternoon.
Tannhäuser
Met, 26 November 2004
This is still the 1977 Otto Schenk production with Günther Schneider-Siemssen's sets. The production still looks great. I have seen it before with Cassilly and heard the broadcast with McCracken when living in Boston. This production is true to the piece unlike much of the nonsense that is shown today around the globe, but especially in Germany. The opera was unfortunately given in the Paris version. This meant that we had a boring ballet that could have been easily cut. For roughly 30 minutes nothing was really happening. It also meant that Walther's aria was cut. This left John Horton Murray, the Walther, with nothing to do. Let's hope that John Horton Murray was hired to be also the cover for Tannhäuser. The singer that met all the qualifications for his role was Thomas Hampson as Wolfram. He had the voice, the volume, and acting capabilities to be a perfect Wolfram. The veteran Kurt Moll is still a strong Hermann, a part that is not very rewarding to sing. Of all the knights only Biterolf is left with something meaningful to sing. Charles Taylor sang Heraus zum Kampfe mit uns allen with appropriate strength and menacing tone. I did not care much for a young boy singing the Shepherd. The same thing applied for all the pages sung by pre-puberty boys. Michelle deYoung looked radiant as Venus, but did not quite have the power necessary for the part in such a barn of an opera house. Deborah Voigt was good as Elizabeth, but I expected more radiant and powerful singing, and that she let go at the end of Dich, teure Halle, grüß' ich wieder. Peter Seiffert was Tannhäuser. Seiffert is a lyrical tenor and Tannhäuser does not fit his voice well. During the Venusberg scene, he did not sound comfortable in Dir töne Lob. His voice did not dominate as it should. He managed to go through the rest of act 1 without any problem, but he was not at ease. The Wartburg competition found him in the same quandary. His outbursts Auch ich darf mich so glücklich nennen, Ha, tör'ger Prahler Biterolf and Dir, Göttin der Liebe, soll mein Lied ertönen! were all there, but not as powerful as they should be. During the big ensemble at the end of the Wartburg scene, he managed Zum Heil den Sündigen zu führen, but it was a stress for his voice. Nach Rom requires more glow in the voice. Up to that point, Seiffert sang competently but not more. Old tenors now maligned by the new opera crowd, such as Beirer, Hopf, and Wenkoff were all more convincing. However things changed in the third act, Seiffert was outstanding in the Romerzählung and the rest of the act. His voice was clearly audible without any pressure put on it. Mark Elder, whom I saw many times in the 80s at the ENO, was the conductor and provided, after an overslow overture, strong support. However, he is now as weird looking as was Russell Davies in Cavalleria rusticana and Pagliacci.
Cavalleria rusticana & Pagliacci
Met, 6 November 2004
Daniela Dessì cancelled, and as result Fabio Armiliato also cancelled. While Dessì's cancellation could have had a negative impact in Pagliacci, Armiliato's cancellation was not a real problem. Both works were produced and designed by Franco Zeffirelli. This resulted, as expected with Zeffirelli, in real operatic productions following the composers' intentions, a rarity today. Oleg Kulko replaced Armiliato as Turiddu. He had a better voice and sang much better than the uninspired Armiliato could have. He gave a solid performance. Eva Urbanová was Santuzza. She sang with feeling and had the voice for the role, but like Fiorillo, recently heard in Tokyo in the same role, she could not let go as verismo parts require. Frederick Burchinal, as Alfio, did not start well in Il cavallo scalpita, but recovered enough not to offend for the rest of the evening. The minor parts Lucia (Jane Shaulis) and Lola (Josie Pérez) were well sung. In Pagliacci, the evening started badly with Juan Pons' underpowered prologue with impossible high notes where his voice changed color, lost volume and remained in the throat. After that, he was ok as Tonio, but Tonio's big moment is the prologue. Victoria Litherland, replacing Dessì, was outstanding as Nedda, while Mariusz Kwiecien provided a strong voice and a well-sung Silvio. Canio was Vladimir Galouzine. The tenor's voice is unrecognizable from what it was in a not too far past. Years of pushing have taken toll on his voice. It has lost bloom, squillo, steadiness, volume and acuti. Compared to the over 60 year old Giacomini, heard in Tokyo recently in the same role, one can say that at not yet 50 year old, Galouzine must reconsider what he intends to do in the future. His A ventitre ore was not what it should have been. He pulled himself together and went through the part with caution, good acting and low volume. That he is still scheduled as Calaf and Otello today is a mystery in his current vocal state. Both works were conducted by the weird looking Dennis Russell Davies.
Aida
Met, 16 October 2004
I specially attended this performance to hear Franco Farina sing Radames. It was a major unexpected disappointment. From the beginning, he sounded underpowered. The high b flat in Celeste Aida was way off the mark and taken laying on the floor. He sounded very weak up to the end of the triumphal march (given with some poor sounding trumpets). I was hoping for better during the Nile scene. He was slightly better, but lacking squillo and quite underpowered in the duo, trio and Io resto a te. The duet with Amneris did not generate any particular excitement. His best performance was during the last act duo when piano singing was required. This was really unfortunate, as I heard him previously in Tosca, Mefistofele and Attila, where he was excellent. It is quite a pity as the production, sets and costumes were done in accordance with the piece, not an Alden or Houston-style (David Gockley!) craziness. The best of the cast by far was Dolora Zajick. On this occasion, she did not generate the same excitement as she normally does in this role (I heard her before). Fiorenza Cedolins, Aida, spent her evening singing piano, and pianissimo. She does not have a real Aida voice. We need the kind of hair-under-the-armpits sopranos for the role. Pons was his usual self as Amonasro, small scale, and not very menacing during the Nile scene. Where are the Prottis, Biancos, Ohanesians etc in this role? The two basses were fine (Vitalij Kowaljow as Ramfis and Morris Robinson as Il re), but Aida is not a bass opera. Marcello Viotti provided a chamber music accompaniment for Aida, not quite what Aida requires. In total it was a very disappointing evening. As the opera was finished, most of the audience gave a standing ovation to everybody. Aida and Amneris received the most applause.