Luciano Pavarotti
| | |
| --- | --- |
| Luciano Pavarotti sings | La bohème: Che gelida manina, with audience participation (La Scala 1969) |
| | |
| --- | --- |
| Luciano Pavarotti demonstrating his "secure technique" once more in | La bohème: Che gelida manina |
In RA format
In RA format
| | |
| --- | --- |
| Luciano Pavarotti sings | La fille du régiment: Ah mes amis |
The King of the High C – with no High C, for once. A fiasco.
In RA format
I wish to thank Daniele Godor for providing the recordings.
Pavarotti's first record, a 10" 45 rpm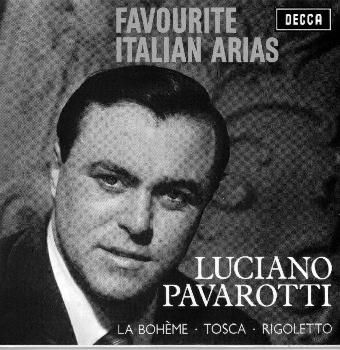 I first heard Pavarotti in the early 1960s in Zürich. The local opera house has a seat capacity of about 1200 people. In such an environment, Pavarotti sounded pleasant, his voice filling the house well. However I must say that his Duke in Rigoletto was much inferior to the one sung by Alfredo Kraus in the same house. After that I encountered him in San Francisco as Edgardo in a huge house. There, he sounded small and unexciting. His Edgardo was well below the one I heard sung by Vanzo at the Paris Opéra and Vanzo was not a Tamagno type tenor. Vanzo also characterized the role much better than Pavarotti. Pavarotti sang Rodolfo at the Paris Opéra and there he also could not be heard. With me, some friends went to hear him (or rather see him since he already had his elephantine size) based on the well orchestrated publicity on the merit of the big man. They were very disappointed. In their youth, they used to listen to Franz, Burdino, O'Sullivan, de Trévi, Thill, etc... I witnessed his Radames in London. He was a small scale hero with the voice to go with it and had an impossible stage presence due to the handicap of his size that he could not overcome. When I moved to New York, I went to hear him as Manrico. Hear is a big word, since I was only barely able to hear a tread of voice. I left at the intermission, disgusted by his singing. During other times, Pavarotti would have been, at best, limited due to the size of his voice to what French call Opéra-comique roles and to theatre sizes going with it. The argument we hear is that he has a beautiful voice. Well, he was not the only one, what about Gigli, Caruso, Schipa, Cortis, Di Stefano, Thill, etc.? None of these singers had the small voice of Pavarotti. He is the perfect home tenor for people who do not wish to go out to hear him live, but sit at home to listen to the miracle of electronics that makes him sound robust. Pavarotti la voce di topolino.
Luciano Pavarotti, the great illusionist, by Daniele Godor




Repertory

La bohème – Modena, Comunale, 29 April 1961
Rigoletto – Carpi, Comunale, 1 November 1961
La traviata – Belgrade, National, 3 December 1961
Lucia di Lammermoor – Amsterdam, Nederlandse Opera, 18 January 1963
Madama Butterfly – Belfast, Grand Opera House, 7 May 1963
Idomeneo (Idamante) – Glyndebourne, 24 July 1964
La sonnambula – London, Covent Garden, 26 May 1965
L'elisir d'amore – Melbourne, Her Majesty's, 15 July 1965
I Capuleti e i Montecchi – Milano, Scala, 26 March 1966
La fille du régiment – London,Covent Garden, 2 June 1966
I puritani – Catania, Bellini, 22 March 1968
Manon – Milan, Scala, 31 May 1969
I lombardi alla prima crociata – Rome, Opera, 20 November 1969
Un ballo in maschera – San Francisco, Opera, 27 October 1971
La favorita – San Francisco, Opera, 7 September 1973
Luisa Miller – San Francisco, Opera, 23 November 1974
Der Rosenkavalier – New York, Met, 8 March 1976
Il trovatore – New York, Met, 11 October 1976
Tosca – Chicago, Lyric, 26 November 1976
L'elisir d'amore – Hamburg, Staatsoper, 18 June 1977
Turandot – San Francisco, Opera, 30 December 1977
La Gioconda – San Francisco, Opera, 7 September 1979
Aida – San Francisco, Opera, 12 November 1981
Idomeneo (Idomeneo) – New York, Met, 14 October 1982
Ernani – New York, Met, 18 November 1983
Otello – Chicago, concert, 16 April 1991
Don Carlo – Milano, Scala, 7 December 1992
Andrea Chénier – New York, Met, 6 April 1996

Reference: Martin Mayer, Gerald Fitzgerald Grandissimo Pavarotti, Doubleday & Company, Inc., Garden City, New York, 1986.
---
Go Home
---