Glauco Scarlini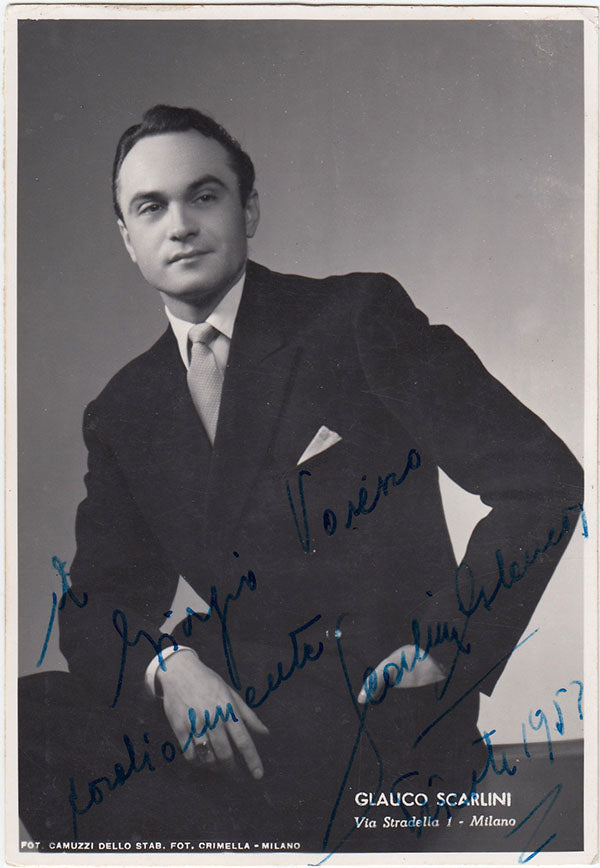 In RA format
From the early 1950s to the mid-1970s, Glauco Scarlini was busy as a comprimario throughout Italy: in Rome, in Genova, at the Maggio Musicale Fiorentino, particularly often at the Teatro Massimo in Palermo. He also sang abroad: Monte Carlo, Paris (Théâtre des Champs-Élysées), Barcelona (Liceu), Rio de Janeiro.
There is some evidence that he was originally aiming at a different kind of career: a 1949 radio recording of Il tabarro features him as Luigi – far indeed from what was to become his regular fare: really small parts like Gastone (Traviata), Normanno (Lucia di Lammermoor), Bruno (Puritani), Goro, Edmondo (Manon Lescaut); but also interesting comprimario roles like Cassio, Malatestino (Francesca da Rimini), Incredibile or Pang.
Reference: Kutsch & Riemens
I would like to thank Paolo Cavassini for the recording.