Jules Godart
December 2, 1877 Quaregon – October 22, 1909 Le Vésinet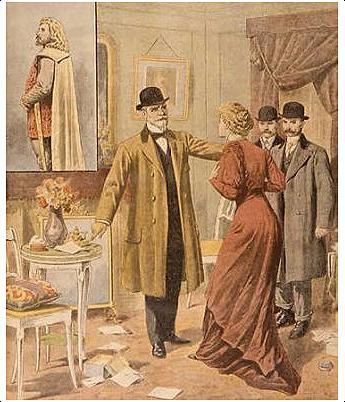 Jules Eleuther Godart was the son of Jules Abraham Godart, from Pâturages, and Virginie Sidonie Mathieu, and was nicknamed le grand blond or le doré.

Godart started working in a mine at age 10. He became a blacksmith and was noticed when singing solos in a Quaregnon choir (Jeune Lyre).

He subsequently studied at age 24 at the Mons Conservatory with Achille Tondeur (1901-1902), where he received the first price with distinction. This was followed by further studies with at the Conservatoire Royal in Bruxelles with Désiré Demest (1903).

Starting in 1904, he made his debut in Mons, then sang in Le Mans, Verviers, Bruxelles, Liége, Gand and Rennes.

In Marseille during 1907/8, he sang Samson, Faust (La damnation de Faust), Lohengrin, Siegfried (Götterdämmerung), Siegmund and Faust.

On June 6, 1908, he made his debut at the Opéra as Lohengrin. Following the advice of the tenor Hector Dufranne, he sang during his first season Wagnerian roles. He sang also at the Opéra: Samson (1908), Siegfried (Götterdämmerung, 1908), Siegmund (1909), and Faust (1909).

Critics, while recognizing his gifts, had some reservations:

Monsieur Godart a une belle et forte voix; il est dommage qu'elle ne soit pas toujours d'une justesse absolue, chez lui le chanteur hésite encore; le comédien encore plus !
G. Pioch, Musica, May 1909

Monsieur Godart me paraît plus à son aise dans Samson que dans Lohengrin. Sa voix est fraîche et il articule bien, mais qu'il prenne donc de la justesse grands dieux !
Comoedia, October 1909

On October 22, 1909 at Le Vésinet, he died drinking a poison that was not meant for him but for another target. Marie Bourette was the culprit. His birth city Quaregnon keeps a draft contract between him and Oscar Hammerstein.

He sang in Rennes, Le Mans, Rouen, Marseille, Genève, Rennes (1904-1907), Rouen and at the Opéra.

He
| | |
| --- | --- |
| Jules Godart sings | Tannhäuser: Reine d'amour, with Amelia Talexis |
In RA format
I wish to thank Richard J Venezia for the recording (Walküre).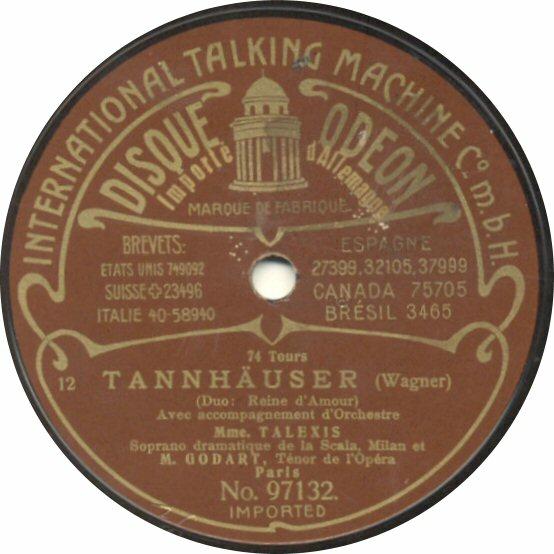 Discography

Odeon, 1908 
xP 4424   DIE WALKÜRE: "Plus d'hiver, déjà le printemps commence"               X 97131  	
xP 4427   TANNHÄUSER:  "Reine d'amour, à toi mes chants d'ivresse"              X 97132
          with Amelia Talexis
xP 4427-2 TANNHÄUSER:  "Reine d'amour, à toi mes chants d'ivresse"              X 97132
          with Amelia Talexis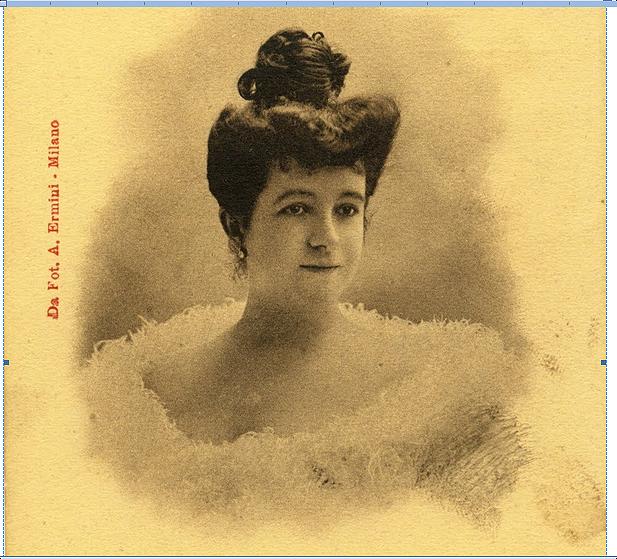 Amelia Talexis (1875–1911)

Talexis was born in Toulouse, France. At an early age, Talexis began studying piano and cello at the Toulouse Conservatory, and then studied singing under Jacques Roudil who had previously sung at the Paris Opéra and then taught at the Toulouse Conservatory. One source claims that Talexis studied with Paul Lhérie who taught at the Paris Conservatory. Talexis might have studied privately with Lhérie, but there is no evidence that she attended the Conservatory or that she ever sang on any of the Paris stages. Her earliest engagement was most likely at the French Opera in New Orleans during the 1897-1898 season. It was there that Talexis probably met her future husband, Henri Berriel, who was the director and first baritone of the New Orleans company. During the 1898-1899 season, Talexis was the forte chanteuse falcon at Antwerp's Théâtre Royal. Berriel was also engaged there as first baritone but was found unsatisfactory and his contract was cancelled. Talexis and Berriel both sang in Montreal during the 1899-1900 season and in the spring of 1900, Talexis sang 11 performances at the Grand Théâtre de Bordeaux: Salomé in "Herodiade"; Bertha in "Le prophète"; both Eudoxie and Rachel in "La Juive"; Chimène in "Le Cid". Talexis returned to New Orleans for the 1900-1901 season, where Berriel was again doubling as director and first baritone. On the New Orleans roster for that season, she was unaccountably listed as "Mme Talexis de l'Opéra-Comique de Paris". At this point in her career, we seem to lose track of her, though she is said to have sung "Aida" in Barcelona, as well as Donna Anna at La Scala, the Colón, and the Havana Opera. As evidenced by her recordings, her voice was powerful with a wide range and a secure technique, equally comfortable in French and Italian. She recorded for Fonotipia and Odeon including the Act 4 duet from "Les huguenots" with Léon Escalaïs, which unfortunately was never released. Talexis died tragically in a freak accident in the bathroom of a hotel in Calais on her way to London at 36 years of age.
I wish to thank Christian Torrent for the pictures, discography, help and Talexis information.
Les grandes voix du Hainaut à l'époque du 78 tours., Belgium, 1985.
Reference: Richard T. Soper: Belgian opera houses and singers, The Reprint Company, Spartanburg, South Carolina, 1999.
Jean Gourret: Dictionnaire dees chanteurs de l'Opéra de Paris, Albatros, 1982
Stéphane Wolff: L'opéra au Palais Garnier, L'entracte, Paris, 1962
Reference